Chihaya Ayase is a girl who has spent most of her life simply supporting her sister in her model career. That changes when she meets a boy named Arata Wataya, a talented
karuta
player. After becoming friends, he believes that Chihaya has potential to become a great player. As Chihaya takes on a new dream of becoming Japan's best karuta player, she is soon separated from her karuta playing friends as they grow up. Now in high school, Chihaya is reunited with her childhood friend, Taichi Mashima. Together, they form the Mizusawa Karuta Club. With her teammates and friends supporting her, Chihaya strives to become the best karuta player in the world and to one day be with Arata again.
To tell you the truth: I watched BOTH seasons in two days. No joke. It was just so catching... seriously... read on and I will tell you why!
First: I really liked it. It wasn't one of the best I've ever watched, but it was really catching! When I started, I just couldn't stop. I seriously had this "Just one more episode"-syndrome.
I'll start with introducing the main characters! :D
Chihaya Ayase - main chara no.1
-dumb for everything except Karuta -_-
- I like her though because she's not your ordinary main chara... as you can see.
Taichi Mashima - main no.2
-this little fucker is in love with chihaya
-i love him because he's awesome
-this typical megane everybody loves -_-
Shinobu Wakamyia - interesting side chara no.1
-she's funny.
Well, there are much more interesting characters, but well... I'm lazy and... it's late... so we'll ditch that! LETS COME TO THE INTERESTING PART:
How can one make a simple card game SO FUCKING interesting that you can't stop watching? I mean aside from Yu-Gi-Oh! I can't imagine a card game being THIS interesting! I mean... there is ALWAYS something new to one of those games and you just don't get bored from it...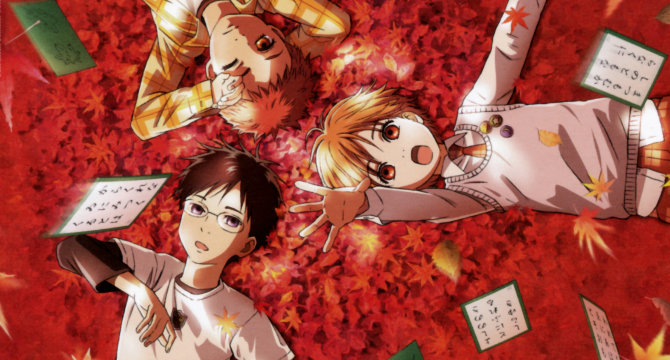 I especially love the art style and that there are much HD streams of this online, so everyone can watch in in BEEEEST quality :D I think if you have the time and the heart you could make AWESOME AMVs of this, even though it's just about tossing cards fast from the field, haha!
Okay, there ARE quite some points, that i REALLY DISLIKE!
I MEAN SERISOULY DON'T YOU JUST SHIP THEM? YOU SHIP THEM!
AND YOU KNOW WHAT HAPPENS BETWEEN THEM? RIGHT - NOTHING!!! WHY? WHY THE FUCK? OWGF IGILUG LISDGLISDYHBV:KDYHVGLIAJ MN:VDYKBL :NSC
Okay. On the one hand, it's nice to have a shoujo Manga like this with not so much shoujo but even some ... heart racing action elements (not really) AND you don't have love affairs interfere with the main story, but seriously. SERIOUSLY. FUH.
ALSO: Why the fuck is it, that Chihaya gives her everything ALL THE FUCKING TIME and just because of fucking bad luck can't develope in her own aspects? She gives her all, does everything for everyone and fights fights fights but in the end, she get's ill, or hurts her Hand so she can't even play properly. Seriously, this fucked up everything. I mean... OKAY, she does not have to get like Ichigo of Bleach and OP everyone but... come on, she's the main character. Give her some developement in her own achievements.
Now there will follow some nice GIFs to make you watch this anime :D as you will see, Chihaya is a troll. :3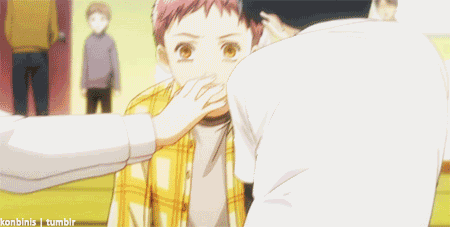 NOW START WATCHING IT, YOUFCKNGOTAKUS! >D