This is a new Manga from Kohta Hirano, the maker of "Hellsing".

Shimazu Toyohisa, while involved at the

Battle of Sekigahara

, manages to mortally wound

Ii Naomasa

, but is critically wounded in the process. As he walks from the field wounded and bleeding, Toyohisa finds himself transported to a corridor of doors, where a bespectacled man at a desk waits for him. This man, Murasaki, sends Toyohisa into the nearest door where he wakes up in another world. There, Toyohisa meets other great warriors like him who have been transported as well, to be part of a group known as "Drifters".
..
To tell you the truth: I am one of the few Otakus, who has never read or watched "Hellsing" and before reading 'DRIFTERS' I didn't even know, that it's from the same Mangaka! But What I can say is this:
I'm from Germany and (sadly) here are ony the first two volmues released (yes, I bought them ;D) and I don't want to read them on online, BUT these first two volumes flashed SO FRIGGIN MUCH that I am defeniteley buying EVERY FUCKING VOLUME THAT WILL STILL COME!
First: The art is FUCKING HELLISH AWESOME. Alsmost as awesome as Prussia (Hetalia). But, as you Otakus know, nothing can be as awesome as him. BUT "DRIFTERS" Has oe hell of nice Characters and a fuckng awesome plot and storyline and FUUUH! (Remember that I tell you this after only TWO VOLUMES!)
OKAY! Let's come to the interesting stuff!
First: The Characters!
I think I will just translate, what the author himself wrote about some characters. This seriously should be enough for you to relate to this awesomeness! (The things writtens behind the "=>"s are my own words :3)
Shimazu Toyohisa:
Killer-Mashine from the Shimazu Clan Murderer from Satsuma. As long as he can bhead people everthing else means nothing to him. In his free time he trains with his sword. He is happy as long as he can just live.
=> MAIN CHARACTER (HERO).
Oda Nobunaga:
Arsonist-Mashine from the Oda House. He's a dancing freak who dances the Atumori dance at every chance he get's. Because his descendants also always dance on the ice it seems to be the perfect dance-koshien-family. As Pilonlikyu (wtf). Pyromaniac.
=> RIGHT HAND OF THE HERO, BRAIN BEHIND EVERYTHING, SCARY OLD BASTARD.


Nasu Yoichi:
Golgo 13 (wtf) from the house Nasu. When he feels someone standin behind him, he punches this person to death. When he does't feel the person behind him, he kills him in another way. Kill. Shoot them down. PENG! PENG!
=> LOOKS LIKE A GIRL.


Black King:
=> KIND OF A FREAK WHO WANT'S ALL DRIFTERS DEAD. DUNNO WHO HE IS. SCARY. He is fucking funny in the little short after stories, seriously, I can't take him serious anymore.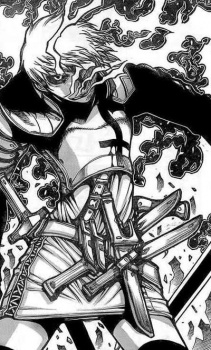 Jeanne D'Arc:
In france born farmer, who was responsible of getting back Orleans. As Orleans-Recapture-Mashine, she could - of course - not recapture Paris, so: stake. I'm sorry for her. Particulary for her breasts.
=> FLAT CHESTED TOMBOY OF THE ANTAGONIST TROOPS! BURNS DOWN EVERYTHING. She get's mocked by the black king in the after-stories, so I can't tae her serious, too.
THERE IS ALSO THIS ONE ANTAGONIST BITCH CALLED "Anastasia Nikolajewna Romanowa" who is a fucking beautiful, strong and big-brested bitch of the black king. I love her though. :3


ALSO THE FUCKING AWESOME HUMOR OF THIS MANGA FUCKS THE SHIT OUT OF MY LUNGS WHEN I LAUGH!!!!
Seriously. In Drifters, there are strong people from history collected. People who seem to have died. SO THINK ABOUT ONE OF THE MOST EVIL PERSONS IN HISTORY! HUH? WHO COMES TO YOUR MIND? ADOLF HITLER OF COURSE!!!! o.e
And Hitler is not forgotten. NOT. FORGOTTEN. Fuh. Haha.

Who might those persons be? The creators of this perallel world? Why is this thing a little creepy girl? And whats up with the eyes of that geezer? Questions over Questions...



Last interesting Information: There also seems to be an anime of this Manga :D Maybe I will start watching it the next days/weeks... I'll inform you!
NOW FUCKING START TO FUCKING READ THIS MANGA,